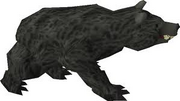 The black bear is an omnivore, and if you come into its range, it will attempt to kill and eat you. The black bear's coat is much smoother compared to the nearby grizzly bear.
Hitpoints: 65
Level: 19
Max Hit: 3
Attack Speed: Longsword Speed
Location(s)
Edit
These monsters are only located at their location in Low Level Training Area.
This monster has no drops.
There are two kinds of bears on Fire-Pk.